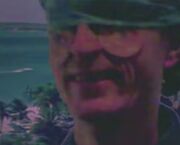 Dżinsowy człowiek - postać występująca w Grzybowych Melodiach. Tańczył w nich z Karoliną i Agatką.
Wygląd i zachowanie
Edit
Postać jest ubrana w dżinsową kurtkę, czapkę i spodnie (stąd nazwa). Ma dziwny, niepokojący uśmiech i czerwoną twarz. Przez całą piosenkę tańczy u boku Karoliny (sporadycznie z Agatką). Jak reszta postaci ma naklejone oczy oraz jest najwyższy. Jest dorosły
Jeansman jest pedofilem
Edit
Zobacz więcej: Teoria Gwałtu
Dżinsowy człowiek jest antagonistą i pedofilem. Zgwałcił on Agatkę , Beatę i Karolinę o czym świadczą zalepione usta i oczy (symbolika), jak i słowa piosenki (patrz: Ballada w rytmie dżins)
Ad blocker interference detected!
Wikia is a free-to-use site that makes money from advertising. We have a modified experience for viewers using ad blockers

Wikia is not accessible if you've made further modifications. Remove the custom ad blocker rule(s) and the page will load as expected.