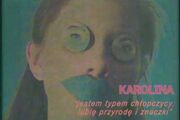 Karolina 
- domniemana główna bohaterka
Grzybowych Melodii
, a także wykonawczyni
Ballady w rytmie dżins
. Jest także bohaterką książki
W krainie grzybów
Karolina jest ciemną blondynką, która ubrana jest zielony płaszcz. Ma nalepki z oczami w miejsce prawdziwych oczu, a także w przeciwieństwie do innych postaci - dodatkowe sztuczne usta. Jest ona najniższa ze wszystkich bohaterów (poza Małgosią, której wzrost się zmienia).
Agatka - nie wiadomo o żadnej relacji z Agatką, prócz ich wspólnego tańca z Dżinsowym Człowiekiem.
Dżinsowy człowiek - nie wiadomo o żadnej relacji, oprócz tańca przez całe Grzybowe Melodie.
Małgosia - Małgosia pojawiła się w Grzybowych Melodiach, ale nie występuje razem z Karoliną
Ad blocker interference detected!
Wikia is a free-to-use site that makes money from advertising. We have a modified experience for viewers using ad blockers

Wikia is not accessible if you've made further modifications. Remove the custom ad blocker rule(s) and the page will load as expected.