Maggie

Maggie as she appears in the first episode, next to Agatha.
Vital statistics
Gender
Female
Status
Squirrel
Spouse(s)
none
Parents
none
Children
none
Appearances
Smile Guide, Mushroom Melodies
Portrayed by
Anna Grudniewska (voice)
Maggie (originally Małgosia or Gosia, both being shorter forms of Małgorzata) is the squirrel friend of Agatha and the co-host of the series Smile Guide.
Maggie is animated, contrary to Agatha, which is played by a real actress. She is usually shown from the waist up. Her fur is orange except for the "Teufel" scene (in the Theories category). She has tall ears on the top of her head, wide black eyes, large cheeks, a small nose, an incredibly wide mouth and a bump on her neck resembling an Adam's apple. In the Smile Guide she is always seen from her stomach up, except for the fifth episode, where her full body is seen.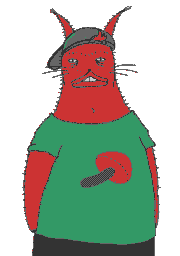 Appearances
Edit
Maggie has appeared in all of episodes of the Smile Guide and in Mushroom Melodies.  Maggie also appears as the main antagonist in the game Smile Guide: The Apple Escape.
Theories
Edit
Maggie is male
Edit
According to this theory, Maggie is a man. It is based on the fact, that she has a large laryngeal prominence, which is commonly referred to as Adam's apple), a bump on the neck. Its structure forms a bump under the skin. It is larger in adult men, in whom it is usually clearly visible and palpable. In women, the bump is much less visible and is hardly perceived on the upper edge of the thyroid cartilage. It also adds more meaning and sense to the moment she (or he) kissed Agatha and told her "But I love you anyway" (pl. Ale i tak cię kocham).  
In episode 5, Maggie asks Agatha how old she is. After she holds up her fingers to answer the question, a strange voice of a man is heard on top of Maggie's regular one as she says "We don't have much time, she's coming.", both voices fusing into one at the end of the sentence. We hear the same man speak again as the Maggie puppet in the Smile Guide Christmas Special. This hints that Maggie is not who 'she' claims to be.
Maggie is the devil himself
Edit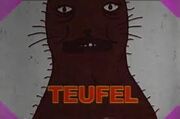 This is derived from a scene when Maggie is shown with the german word Teufel (eng. devil) and a german proverb Der Teufel ist ein Eichhoernschen (eng. The devil is a squirrel).